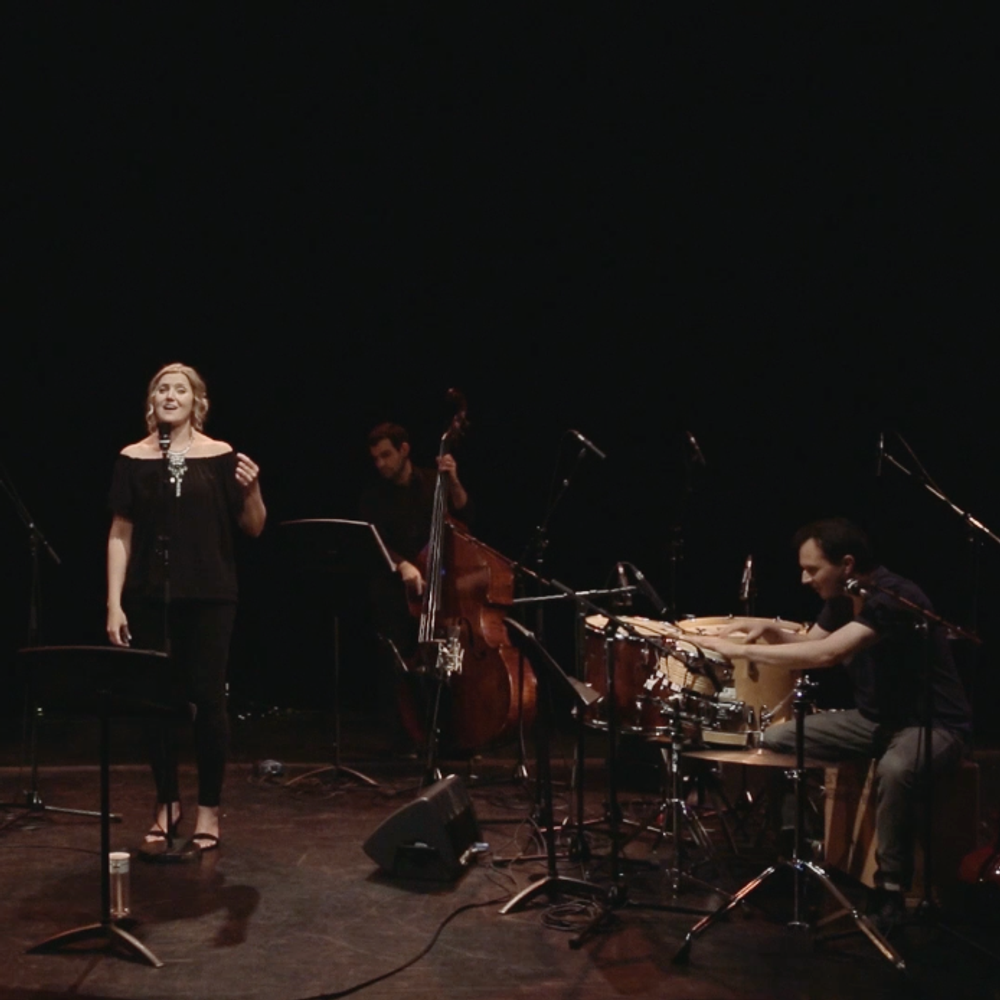 PROJECTS
AKQ (ANKA KOZIEL QUARTET)
The quartet was thrown together in 2003 for the performance at the Dutch Jazz Competition semi-finals. Having four different musicians from various European countries with different temperaments added a lot of vitality and spice to the music, and the concept worked. The quartet continued to perform together for some years during their conservatoire studies. The recording of the debut album 'Tales of the Forest' in 2008 reunited the band members: Michal Vanoucek (Slovakia) piano, bassist Brice Soniano (France) and drummer Oriol Roca (Spain). Current lineup: Rembrandt Frerichs (NL) p, Vasilis Stefanopoulos (GR) b, Pepe Garcia (MX) perc.
SOLO
Since 2004 Anka has been performing alone with  harmonizer and looper, recently also adding piano, percussion and anything that makes sound. She sings her own compositions, folk songs, vocalises and close harmony. 
THEO (THE HAGUE ETHOSPHERIC ORCHESTRA)
It's a project initiated in 2009 by Brice Soniano (b), he also found the name "Ethospheric" (earthy). The orchestra consistsed of professional jazz musicians slightly gone astray. They played music from all around the world, their own compositions, free jazz, and world music "Requiem para el mundo" with NUEVA MANTECA
Requiem for The Earth - 'Requiem Para el Mundo' calls for peace and is both a warning and consolation. Beautiful music written by late Jan Hartong. The piece consists of ten parts, which include a number of medieval Gregorian chants arranged to jazz, salsa, rhumba, mambo, performed by Nueva Manteca and four vocalists: Alberto Caicedo, Kristina Fuchs, Caspar de Jonge and Anka. 
SELECTED EARLIER PROJECTS:
2010
• UIT Den Haag Festival (The Hague, NL)
• LOTOS Jazz Festival (Bielsko Biala, PL)
2005
• YO! Opera Festival (Utrecht, NL) and Beef Panda Festival (The Hague) - "Ten Latste" composition by Anke Brouwer
2004 
• contemporary project "Świt" by Filip Matuszewski - May Festival (The Hague)
2003
• North Sea Jazz Festival - Kenny Wheeler + Royal Conservatoire big band (The Hague)
• Dutch Jazz Competition - first performance with my quartet (Amsterdam, NL)
2002
• contemporary project of Chen Wagner (I) - May Festival (The Hague, NL)
1998
• Jazz on the River Odra Festival - Jazz Individuality (Wroclaw, PL)
• Jazz Standards Festival, distinction (Siedlce, PL)
• International Jazz Vocal Competition, distinction (Zamosc,PL)
1996-1999
• Country-Western projects (side musician - guitar & backing vocals)
1994
• Young Talent Competition (Polish Radio Katowice) and my very first studio recording of two original songs
1991
• Shanties Festival "Flauta" (Lublin, PL)
1990-1999
• Blues & singer-songwriter performances in Central Europe and Germany